Award Winning "North Woods Fine Dining
in a Rustic and Casual Atmosphere"
For the safety of our Guests and staff,
the Rainbow Grille has a strict
Social Distancing Policy.
All staff are required to wear a face covering while at work, or must be a distance of 6 feet or greater from fellow staff and guests, at all times.
We ask our Guests to wear a face covering while entering our building. If you do not have one with you, we will supply you with one. Once you are seated at your table you may remove your face covering. If you need to leave your table for any reason, please wear your face covering. If you choose not to comply with our Social Distancing Policy, you will politely be asked to leave.

The Rainbow Grille is now open for Dine-In and Take-Out!

Online Take-Out orders can be placed directly from this website by clicking the link "Order Take-Out".

We recommend using the online ordering system available on this site, and not the "Toast Takeout App" that you can download from the Apple App Store and Google Play Store. The Toast Takeout App does not allow you to schedule an order, which most people prefer to do.

Currently, orders can be placed the day before you would like to pickup your order. For instance, if you want to pickup your order at 8PM on Saturday, you can place your order as early as Friday morning. If you wait until Saturday evening to place your take-out order, it may be possible that we are already completely booked with orders and you may be unable to place an order.

All Take-Out orders must be paid using a credit card when the order is placed, except for Tall Timber Lodge package plan guests who can place their orders directly with the hostess.

In addition to take out dinner service, we will also have our Continental Breakfast To Go as an option for our guests each morning.The safety and health of our guests, team members, and the protection of our entire community remains our primary concern. The Rainbow Grille is committed to providing a safe and comfortable experience for our guests and staff.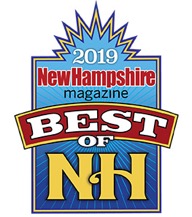 Welcome

Since 1946, Tall Timber Lodge has been welcoming travelers to The Great North Woods. Originally catering mostly to adventurous fishermen and hunters known as "Sports", today, Tall Timber and the Rainbow Grille welcome guests from across the globe seeking quality accommodations and award winning dining.

In season, seven days a week, the Rainbow Grille offers the finest dining in the Connecticut Lakes Region, serving a varied dinner menu of uniquely prepared Black Angus Beef, seafood from the coast of Maine, poultry and pasta. Nightly specials include game such as Bison, Elk, and Venison.

Our lakeside full service bar features carefully selected wines, several by the glass, draft, craft and micro-brewed beers, premium liquors, espresso and cappuccino. Your favorite sports on NESN and Comcast SportsNet including the Patriots, Red Sox, Celtics and Bruins are on our four HDTVs.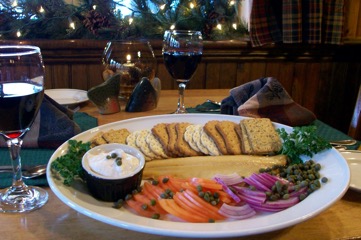 Need gift ideas?

A Rainbow Grille
and Tall Timber Lodge
Gift Card
is sure to please!

Buy an eGift Card Today!
You can personalize your gift with a message, choose to
send it by email or text, and specify a date to deliver it.
Rainbow Grille General Manager: Linda Paige-Caron
Assistant Manager: Sunshine Marchand
Dining Room Chefs: David Caron, Ben Ducret
Rainbow Grille & Tavern
609 Beach Road
Pittsburg, NH 03592
603-538-9556
Copyright©2005-2020 Rainbow Grille.
All rights reserved.